Killer Reads from KILLING KATIE: Frankie Savige
Looking for the perfect story to get you through the throes of lockdown living? The team from KILLING KATIE: CONFESSIONS OF A BOOK CLUB are opening the book on their favourite tales and giving you their very own killer reading recommendations. We've got Director Frankie Savige up first to kick off our book club!
---
What's your favourite book or author and why?
"Meet me at Lennon's" by Melanie Myers. This is striking historical fiction set in my hometown Brisbane during wartime 1940 and in the present. Melanie is one of my besties from drama school and theatre studies, so she's fabulous at integrating dialogue in her writing and interweaves narratives brilliantly. A poignant page turner that has been a big hit on the book-club lists in Brissie – Melanie even wrote a series of specific book club questions and discussion points for the novel on her website!
What makes for a good story or book?
I am endlessly fascinated by discovering nuances of character and the surprise of good storytelling. And exquisite words! So… a great yarn with interesting events and relationships and powerful and poetic imagery can captivate me for hours.
If your life was a book, what would the title be?
Cats Vs The Stage – one woman's struggle to choose between the great loves of her life.
Do you have any reading rituals? 
Both my cats, Sergio and Dante, on my lap. They make excellent book-rests and leg warmers… and they warm my heart when I'm crying over a sad story.
What are you reading at the moment?
All the books that are mentioned in KILLING KATIE – CAT'S EYE by Margaret Atwood, JANE EYRE by Charlotte Brontë, TO KILL A MOCKINGBIRD by Harper Lee and WE NEED TO TALK ABOUT KEVIN by Lionel Shriver. A stack of exciting and quality novels!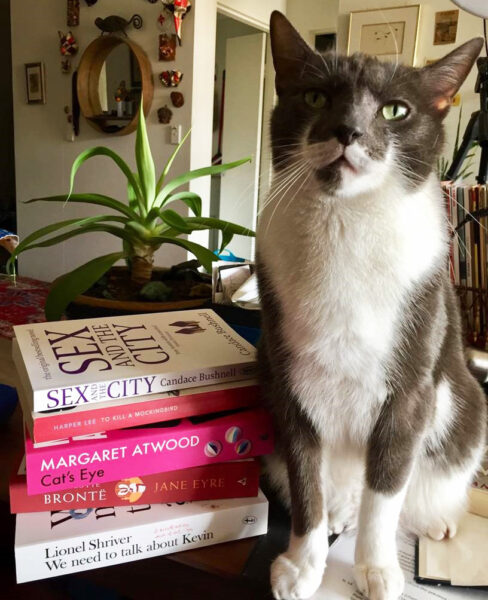 ---
KILLING KATIE: CONFESSIONS OF A BOOK CLUB has been rescheduled to Wed 12 Jan – Sat 19 Feb 2022.
#ensemblesydney