Killer Reads from KILLING KATIE: Bron Lim
Looking for the perfect story to get you through the throes of lockdown living? The team from KILLING KATIE: CONFESSIONS OF A BOOK CLUB are opening the book on their favourite tales and giving you their very own killer reading recommendations. We've got actor Bron Lim in the hot seat next!
---
What's your favourite book or author and why?
The first time I read THE HITCHHIKER'S GUIDE TO THE GALAXY by Douglas Adams I must have been around 10. I was sick in bed, with an awful cold and recall being fussed over. I remember not wanting to laugh too loudly in case I was caught having too good a time and promptly returned to school. Now, whenever I revisit the Hitchhiker's series, it feels like a warm hug, consoling me as the world unleashes its latest absurd offering.
What makes for a good story or book?
I want to be hooked in by the author's style and drawn into a completely different perspective on life. A surprising observation on every page helps keep my easily distracted brain on task. Catharsis and resolution optional.
If your life was a book, what would the title be?
Feathered Thing
Do you have any reading rituals? 
I don't have rituals as such, but my lovely husband brings me cups of tea while I'm reading. I'll take a few sips, then forget all about it. When it's undrinkably cold, I heat it up in the microwave and repeat the whole process until it's pure radiation in a mug.
What are you reading at the moment?
THE SATURDAY PORTRAITS by Maxine Beneba Clarke and ENTANGLED LIFE by Merlin Sheldrake.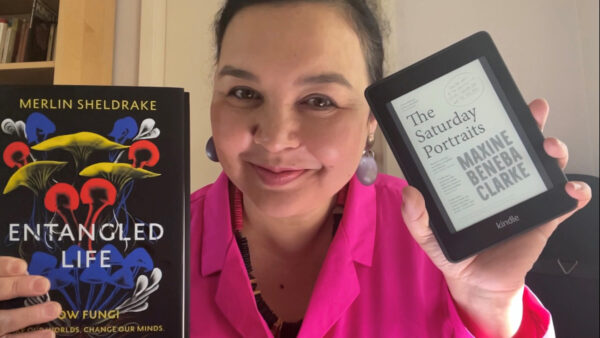 ---
KILLING KATIE: CONFESSIONS OF A BOOK CLUB has been rescheduled to Wed 12 Jan – Sat 19 Feb 2022.
#ensemblesydney