Archive: Jamie Oxenbould
With THE WOMAN IN BLACK taking a small hiatus from the stage due to current restrictions, we're taking a moment to look back at one of Ensemble's favourite faces, Jamie Oxenbould.
From comedies to dramas, Jamie is a writer and performer who has wowed audiences over the years in countless productions with his impeccable comic timing and compelling characters. Let's get started and dive into the archives!
---
BABY DOLL (2019)
Jamie played down-on-his-luck Archie Lee in Tennessee Williams' Deep South tale of lust, jealousy and betrayal.
"Director Shaun Rennie draws out finely detailed performances.. tense and steamy" Stage Whispers
Photography: Prudence Upton
NEIGHBOURHOOD WATCH (2013)
In this sharp and biting social comedy from the ingenious Alan Ayckbourn, Jamie played Gareth, the overly keen neighbour with a penchant for historically accurate reconstructions of medieval forms of punishment.
"His exasperation is hilarious as he demonstrates, to a meeting of bemused neighbours, the difference between stocks and pillory" Stage Noise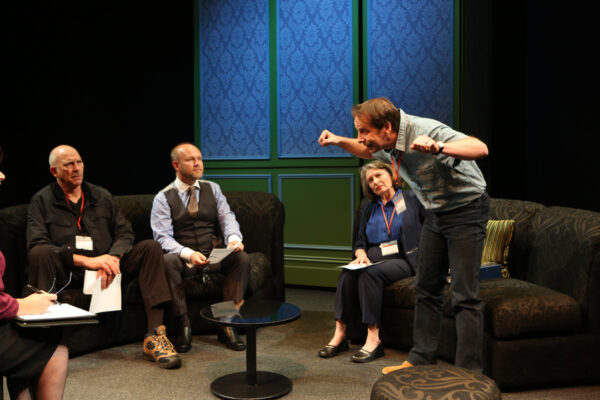 Photography: Natalie Boog
THE SPEAR CARRIER (2012)
Written and performed by Jamie Oxenbould and joined on stage by Jessica Sullivan, this comedy directed by Mark Kilmurry portrayed the innerworkings, annoyances and anxieties of an actor searching for their big break with hilarity and gusto.
"A wonderful telling of the story of a small man in a small part in a medium size production of a very big play" ArtsHub
WHEN DAD MARRIED FURY (2012)
In this scintillating David Williamson comedy examining the political and religious divides of contemporary Australia, Jamie played Ben, a son on the hunt for his fair share of the family fortune.
"As Alan's sons Ben and Ian, who want and expect a slice of the pie, Jamie Oxenbould and Warren Jones are excellent .We see the interfamily scheming, wheeling and dealing, the hidden jealousies." ArtsHub
CASANOVA (2011)
Directed and adapted by Mark Kilmurry,  Jamie played Casanova's arch enemy Grimani in this enchanting play.
"A spellbinding, sympathetic, raunchy, and fast-paced look at one of the world's legendary lovers" (Artshub)
LAST OF THE RED HOT LOVERS (2010)
Jamie teamed up with the dazzling Sharon Millerchip in this classic story from master of comedy Neil Simon, playing ordinary Barney Cashman, a man in the throws of a midlife crisis and exploring the fantasy of an extramarital affair.
"Oxenbould and Millerchip make a memorable pair and Mark Kilmurry [director] has teased the very best out of them" Stage Noise
CHAPTER TWO (2005)
In this classic Neil Simon story about finding love for the second time around, Jamie played George's loyal, meddling brother Leo alongside Brian Meegan, Georgie Parker and Kate Raison.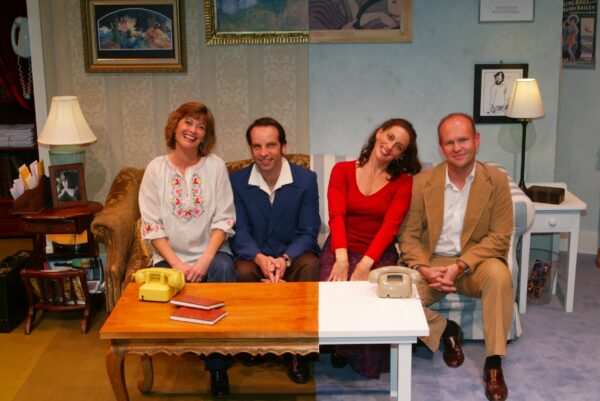 FULLY COMMITTED (2002)
In Ensemble's first staging of Becky Mode's hilarious Broadway smash, Jamie played Sam, a young reservationist working the phones and placating the city's elite in one of the hottest restaurants in town.
---
Want to find out more about THE WOMAN IN BLACK? Head to the show page.
#ensemblesydney