Boatshed Development
Boatshed – Ensemble Development is the home for new work at Ensemble Theatre. Boatshed is a creative hub where seeds are sown, sparks ignite and creative conversations unfurl. With a focus on artistic development, it is an inclusive program where we explore potential, commission new work, nurture emerging talent and trial works in development, all of which shape the future of Ensemble Theatre.
Ensemble Theatre Sandra Bates Director's Awards
Supported by Deborah Thomas and Jinnie and Ross Gavin.
We're thrilled to offer two aspiring directors the Ensemble Theatre Sandra Bates Director's Award. The successful applicants receive the unique opportunity to work as an Assistant Director on two of Ensemble Theatre's 2019 mainstage productions and direct a Boatshed Development play reading.
2019: Adam Deusien and Erin Taylor

2018: Liz Arday and Felicity Nicol
2017: Shaun Rennie and Francesca Savige
2016: Priscilla Jackman and Janine Watson
Director At Work
Director at Work sessions are a unique opportunity for theatregoers and aspiring directors to go behind-the-scenes and see our directors at work. Each session is followed by a discussion with the featured director.
THE LAST FIVE YEARS with Elsie Edgerton-Till
Tuesday 12 March 3.30pm–5.30pm
+ BOOK NOW
MURDER ON THE WIRELESS with Mark Kilmurry
Tuesday 28 May 3.30pm–5.30pm
+ BOOK NOW
BABY DOLL with Shaun Rennie
Thursday 26 September 3.30pm–5.30pm
+ BOOK NOW
$35 per session.
Spaces are limited. For bookings call Box Office on (02) 9929 0644 or book on the links above.
The Director At Work program is proudly supported by George and Diana Shirling 'Supporting the next generation in theatre'
Play Readings
The Ensemble Theatre play reading series is a unique opportunity for audiences to experience readings of new plays and classics being considered for production in future seasons. Our play readings give theatregoers the chance to be part of a creative discussion with the actors, director and in the case of new work, the writer.
The play reading series is proudly supported by George and Diana Shirling 'Supporting the next generation in theatre'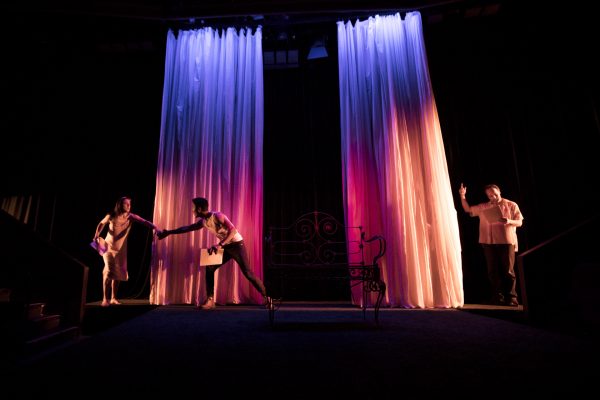 Commissions and new play development
Ensemble Theatre aims to give voice to untold stories reflecting Australia's changing cultural identity, and reinforcing theatre's relevance as a vehicle for social change. We are committed to commissioning and developing new work, and to ensuring the success of these productions by providing dramaturgical support and creative development.
THE APPLETON LADIES' POTATO RACE
By Melanie Tait
Script Development and Creative Development 2018 / in production 2019
Supported by Jenny and Guy Reynolds
DIPLOMACY
By Cyril Gély
Translation and adaptation by Julie Rose, commissioned 2017/ produced 2018
Supported by Jinnie and Ross Gavin
THE PLANT
By Kit Brookman
Ensemble Theatre New Writing Commission 2016 / produced 2017
Supported by David Williamson
THE BIG DRY
Based on the novel by Tony Davis
Adapted by Mark Kilmurry
Commissioned 2015 / produced 2016
THE ANZAC PROJECT
By Geoffrey Atherden and Vanessa Bates
Commissioned 2014 / produced 2015
Free Teen Nights and Q&A sessions
Back by popular demand, we'll be offering Q&A sessions after selected performances again this season. Be part of a post-show discussion with the cast and director and learn more about the background of a play and the process of bringing a production to the stage.
We'd also love to introduce teenagers to the theatre with a free ticket to join you on our Free Teen nights – marked FT in the performance calendar. These are subject to availability and can be booked alongside one adult subscription or single ticket.
Ensemble Theatre supports PLAYWAVE, your key to connect with the best of Sydney's arts and culture. Between 15 – 19 years old? Members of PLAYWAVE receive exclusive access to our Free Teen Nights, marked with FT and much more.